FlexoKITE is a workshop, press floor, seminar series, and tradeshow rolled into one robust flexo user experience.  Broadcasting from two brand-new Experience Centers in the Netherlands and India, FlexoKITE runs a fully equipped integrated workflow of the latest flexo equipment.
"Knowledge, Innovation, Technology, and Exploration" (KITE) are the driving forces that unify flexo industry leaders to deliver real-world technical content not limited to a single product area. FlexoKITE's holistic problem-solving structure thoroughly addresses each flexo webinar topic:
Problem definition;

Highlight the consequences of the issue in production;

Identify the root cause of problem;

Understand the costs associated with the problem;

Demonstrate the possible solutions to eliminate the problem;

Highlight the implications that the current solutions may have on press performance and efficiency;

Presentation of the required steps and contacts to solve the problem
Delivering the Goods — with Something for Everyone   
As FlexoKITE ramped up its webinar series in 2021, attendees requested the possibility of live print testing with real files. With software, platemaking, and press available on-site, FlexoKITE collaborators are spinning up workflows to enable attendees to submit challenging designs for screening, plate, and print. Samples of print runs, or plates, can be shipped to printers or attendee locations. In this way, the topics discussed during the webinar series are brought into real-life to solve real problems.
The same goes for the webinars themselves: when attendees were polled, top concerns were opaque white ink printing, water-based ink foaming, press optimization, and maximizing quality on lower-end corrugated printing. FlexoKITE accepted these challenges, gathered expert partners to problem-solve, and presented useful findings in the webinar series. 
Regardless of specific flexo market sector, the lessons revealed by FlexoKITE exploration translate across press, ink, and substrate boundaries. For example, test results of various anilox engravings with water-based inks tracked with lacquer application for offset coatings and pointed to reduction in ink or lacquer consumption.
Fixing the Cause, not merely the Symptom
Whether the next technical leap forward in packaging printing is truly revolutionary or merely an incremental evolution, the task for printers now is to maximize existing resources to achieve target quality and to minimize waste — including time and money. FlexoKITE's scientific methodology involving technical partners from divergent disciplines provides "Crime Scene Investigation"-like focus to pick apart flex variables, thereby discovering real process improvements. 
"Enough String"  
With FlexoKITE's two facilities now operational, true advances in workflow and standard procedures are now within reach of flexographers without sacrificing valuable press time for experimentation. As FlexoKITE collaborators work together to blaze new trails toward greater efficiency, interested printers can introduce process innovation into their own flexo operations based on lessons learned from FlexoKITE. 
FlexoKITE has an open-door policy to accommodate all co-suppliers, brands, and retailers and includes all market segments.
FlexoKITE's aim is to support the flexo industry as a whole and to not be a closed solution.
There are two core segments:
Fine tuning and improving todays flexo across all markets. 
Innovating and developing the flexo of tomorrow. 
Previous Webinars
Introducing FlexoKITE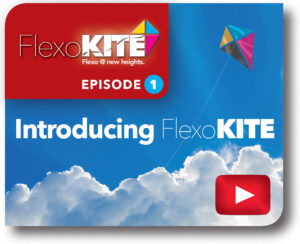 During the FlexoKITE introduction webinar we explain how the FlexoKITE experience can boost your efficiency and productivity with game-changing knowledge and wisdom. We explain why leading flexo technology suppliers have joined forces to demystify end-to-end equipment and workflow integration.
​​Key Take-Aways
Two brand-new, purpose-built, streaming-video-equipped Experience Centers in Hapert, the Netherlands, and Nashik, India
Best practices in the full flexo print process via in-person demos, in-depth Q&A sessions, and live webinars
Experts to help streamline your Flexo procedures and capacity
Experience a helicopter view of the flexo workflow from PDF to finished print, or dive deep into specific technologies and processes
Color impact of White Ink Opacity with Solvent inks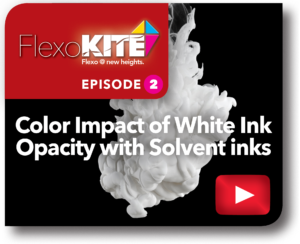 In this webinar we explore the advantages of a synchronized approach combining the latest plate technologies, advanced screening patterns and anilox technologies. We look in detail at optimizing screening selection, anilox & ink to deliver quality, efficiency & cost improvements.
Key Take-Aways
Standard operating procedure to simplify evaluating quality of print white ink
New technologies to improve print quality of white ink
Cost/benefit/improvement analysis
How to eliminate Ink – Lacquer foaming with water-based inks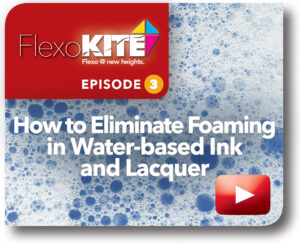 This webinar will focus on Ink – Lacquer foaming with water-based inks in all Flexo applications.You will learn from industry experts about technologies that can eliminate foaming.  We will investigate the root causes of foaming and explore technology to control the foaming and eliminate the factors that create it.
New approach of optimizing the wide web flexo press at DFTA Technology Center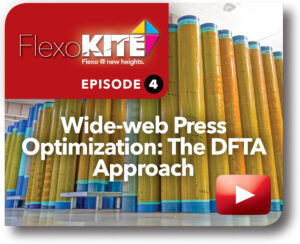 This webinar will take a closer look at the strategy and process of the DFTA to optimize their own press. Flexography offers freedom in terms of substrates, inks, plates, tapes, etc. The challenge is to use this flexibility in a way that all parameters interact in an optimum way to achieve a high quality and consistent print result.
Key Take-Aways
Optimizing: a technical approach from DFTA
Optimizing: a production-based approach from Esko using Print Control Wizard
Expected results from a good optimization project using MacDermid Plates, Apex GTT aniloxes, Esko Screening and XPS exposure
Get a head start optimizing White Ink based on 36 printing tests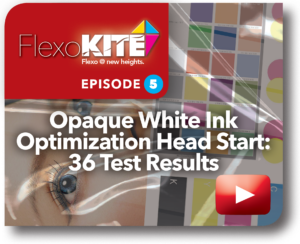 In this webinar, we will present "best combinations" from real print tests with White Ink.  We completed 36 print tests using 5 anilox volumes, 4 plate types, 9 surface patterns, 2 ink types, and 3 different print speeds.  After the print tests, we measured the opacity of each possible combination and used a microscope to capture the ink homogeneity.
Key Take-Aways
"Best" anilox volume, surface pattern & ink type combination
Comparison of white opacity with different print speeds & white ink types
Cost/benefit/improvement analysis